If you are in the market for a new smartphone you will have to make the choice between systems powered by Apple or Android.
While Apple's iPhones have long been in ascendance, plenty of challenger brands have sought to displace the heavyweight of the smartphone market.
There has probably never been a better time to look at buying an Android phone. There are only a handful of choices when buying an Apple phone, but devices running on Google's Android operating system offer far more choice and variety and some of the best phones of recent years come from the likes of Samsung, Google and HTC.
Relentless announcements of new smartphones can be overwhelming, so there are key things to consider when looking to upgrade.
Should I buy an Android phone or an iPhone?
Although there are plenty of great reasons to buy an iPhone, and you can read The Telegraph's review of iPhone 7 to see why, Apple's phones are not for everyone.
Android is used by more phones and tablets, giving you greater choice when picking your phone and models such as the Samsung Galaxy S8 are market leaders in the technology they offer.
And Android phones do not have to cost a fortune and many cheaper handsets offer better value than current iPhones. There are plenty of great contracts you can get on older handsets, as last year's models have often fallen in price and still function perfectly well.
So if you want a bit more choice or a cheaper option, as well as the ability to share data easily across other Android phones and tablets, this operating system might be the right one for you.
What should I look for in an Android phone?
Key technical specs you should be looking for in your smartphone include basic choices such as screen size and battery life to performance indicators such as processing power and storage.
Other factors you might want to consider are the power of the camera, if you want to use your smartphone to replace your digital camera, and you might want to look into the feel of the phone's operating system, as several Android phone manufacturers add their own designs to the system - some with positive innovations, others less so.
Screen size: Current sizes range from just under 5 inches to close to 6 inches for screen size, which can be quite large to hold in the hand. The largest handsets may feel a little oversized, but will provide a better experience if you want to enjoy video or apps like Instagram or Snapchat.

Battery life: A device will offer at least all day battery life on mixed use and any phone with significantly more than 24 hours is considered very good. Many manufacturers will judge battery on "talk time", but the phones will actually last days if left on standby.

Storage and memory: Lower spec smartphones will have around 2GB of RAM, the memory space which makes the phone run more quickly, although better models will have closer to 4GB. Cheaper Android phones will probably only have around 32GB of hard drive space for files and photos, although nearly all come with a slot for adding a micro SD card to boost storage space.

Camera: Most smartphones will take great pictures and high-end models compete to offer the best cameras. Megapixels (MP) are not everything, and some top models have even cut down, but they can create shots with greater close-up details. Other features include dual cameras for extra depth and built-in apps to create different types of photo.

Operating system: Some older models will come with Google's Android 6.0 (Marshmallow), but can easily be upgraded to the latest Android 7.0 (Nougat), which comes with features such as split screen use and an improved "Doze" mode to save battery. While most phones come with the latest system, you may have to wait a while to update an older device.
What should I look for in my phone contract?
While you can simply break down phones in terms of handset price, many providers in the UK offer great deals to pick up new phones for far less.
Many smartphones are available for free if you agree to a two year contract. From there, you will be charged for the number of texts, minutes and the amount of data you use.
Phones that are a year or two old may only set you back £20 a month over a two year period for basic levels of minutes and data. The latest flagship handsets, however, will probably cost more than £40 a month, and may also include an upfront cost for the phone as well.
How much should I pay for an Android phone?
If you are considering buying a handset outright then you can probably expect to pay several hundred pounds.
The cheapest decent Android phones will cost in the region of £150 for some of the latest phone brands. These will feature phones using Android 7 and some are still very high quality, just with less power and storage.
Mid-range phones will cost between £250 to close to £500. There is quite a leap in smartphone prices and only a few phones like the OnePlus series that try to bridge that mid-tier gap.
High-end phones will have the latest cameras, huge storage, powerful specs and innovations such as Samsung's Edge screen to try and make you part with £500 or more. It can be hard to recommend phones at this price, and most more basic phones will easily fulfill all simple functions, so they will need to blow you away with what's on offer.
CREDIT: MOTOROLA
Weight: 144.5g
Battery life: 19 hours talk time
Motorola's series of Android smartphones are some of the best value buys out there. While this model is only a limited upgrade on the previous iteration, it includes 2GB of RAM and 16GB of internal storage. It's front and rear mounted cameras are reasonable, with a 13 megapixel rear facing camera.
It has a sleek, aluminium body and runs on Android 7.0, keeping its menu and systems simple and in line with the original design. It actually has a slightly less powerful processor than its previous iteration, the Moto G4, but it is hard to notice. Other features include a fingerprint scanner, although the phone is not compatible with payment systems such as Android Pay.
Pros: Best cheap Android phone
Cons: Weaker processor than Moto G4
Price: £159
CREDIT: LENOVO
Screen size: 5.5 inches
Weight: 177g
Battery life: 78 hours talk time
With the Lenovo P2 you will feel like you never have to charge your phone again. It has arguably the most impressive battery life of any budget smartphone, and Lenovo says the P2 will also gain 10 hours of life with just 15 minutes charging. This older model does use a micro-USB, which will be less supported by other devices as time passes.
The phone uses the slightly older Android 6.0 operating system and has a slightly larger 5.5 inch screen, while internally it features 4GB of RAM and 32GB of storage. In the UK it is only available with the Three network, while buying just the handset will set you back less than £200.
Pros:Exceptionally long battery life
Cons: Older built-in operating system
Cost: £179
CREDIT: SAMSUNG
Screen size: 4.7 inches
Weight: 138g
Battery life: 17 hours talk time
Samsung has rebooted its A3 smartphone range for 2017, adding a power boost with a faster processor and upgrading its RAM from 1.5GB to 2GB, with 16GB of storage and the ability to add a 256GB SIM card. For a smaller smartphone it comes with a solid display, as Samsung's super AMOLED screen offers great colours.
Samsung also improved the front camera on this model to 8MP, while the 13MP rear camera remains the same. The South Korean company has added a fingerprint scanner, bringing this Samsung up to scratch with many competitors, and the phone is said to be waterproof for up to 30 minutes (if you are brave enough to test).
Pros: Screen quality, fingerprint scanner and waterproofing
Cons: Processor and storage matched by cheaper models
Price: £244
Under £500
CREDIT: ONEPLUS
Screen size: 5.5 inch screen
Weight: 158g
Battery life: 21 hours talk time
Upstart Chinese smartphone manufacturer OnePlus has started making an impact in recent years, with its OnePlus 3 phone and its mini-upgrade the OnePlus 3T viewed as taking the fight to more expensive brands. It features quality 16MP cameras mounted front and back and the latest model comes with the Android 7.1.
The cheapest monthly contract you can get in the UK comes with O2 for £18 per month and the phone is largely unavailable elsewhere, while for a pay as you go SIM the phone inches in at just under £400. The main issue is the lack of a micro SD card slot, although its internal storage comes in at 64GB.
CREDIT: TELEGRAPH
Screen size: 5.2 inch screen
Weight: 161g
Battery life: 27 hours talk time
While a new HTC 11 is set for release in June, the so-called "first squeezeable phone", the HTC 10 is still a great option for a slightly cheaper handset that maintains the top specs. The phone has a great quad HD display with 2560 x 1440 pixels for a sharp picture and its body design looks unique. The Snapdragon 820 processor and 4GB of RAM make this a snappy phone to use. It has 32GB of built in storage, with an optional extra 2TB for a micro SD card.
While last year this phone came in just a bit too expensive, you can now pick one up SIM free for around £450. This drop in price makes it a highly viable phone, even as a new model is prepared for release.
Pros: Price drop makes this an exciting offering
Cons: Camera not as impressive as leading rivals
Cost: £450
CREDIT: SAMSUNG
Screen size: 5.5 inches
Weight: 157g
Battery life: 27 hours talk time
Samsung's 2016 flagship phone, the Galaxy S7 edge is a beautiful phone, powerful with a sharp 2560 x 1440 display. Samsung scaled back its front and rear facing cameras slightly compared to the S6, now with a 5MP rear and 12MP front camera, however this was countered by an improved picture quality in darker environments.
Water resistant and with exceptional battery life, the standard model comes with 32GB of storage and a slot for a 200GB micro SD card. The models currently available come with the older Android 6.01, but prices have now dropped below £500, meaning this phone is certainly worth a look if you want a really quality piece of kit.
Pros: Now with a better price, improved battery, water resistant
Cons: Almost none, if you don't mind an older model
Price: £396.99
CREDIT: BLACKBERRY
Screen size: 4.5 inches
Weight: 180g
Battery life: all day
The demise of the BlackBerry was predicted last year as the company said it would stop making its own phones. But having licensed them instead to Chinese manufacturer TCL you can get that rush of nostalgia for clicking keys again. The new KEYone is a great phone, with solid battery life, the latest Android 7.1 processor and even a surprisingly decent camera.
Drawbacks include a reduced screen size to make up for that keyboard and some apps are a little slow to load. It does however, support all normal Android apps and also still has BlackBerry Messenger (BBM), if you know anyone who still uses the system. For fans it is a great comeback for the design and worth considering if you want something unique with an executive feel.
Pros: Decent battery life, unique QWERTY keyboard
Cons: Small screen, nobody uses BBM
Price: £499
Over £500
Weight: 152g
Battery life: 20 hours talk time
The Samsung Galaxy S8 is a beautiful device. It has an all round Edge Display, which means the phone screen slides seamlessly to the sides of the phone. It also has a headphone jack, unlike its main rivals from Apple. It is water and dust resistant and features 64GB of internal storage.
The S8 also has cool features from the standard fingerprint scanner to iris and facial recognition, and has brought in the Bixby virtual assistant, although on launch this did not feature voice control. While it raised the bar on smartphones and is probably the best Android phone you can buy, you will have to be able to part with some serious money to enjoy it.
Pros: Incredible performance, screen quality, beautiful design
Cons: Massive price tag, highly breakable, lack of Bixby voice control
Price: £779
CREDIT: HUAWEI
Screen size: 5.1 inches
Weight: 145g
Battery life: 24 hours
The latest flagship handset from Chinese manufacturer Huawei, the P10 is a solid high-end smartphone. While misses the mark compared to the Google Pixel or Samsung's Galaxy S8, it still comes with a raft of powerful specs that make for a great Android phone, such as its dual rear camera of 12MP and 20MP that deliver some brilliant snaps.
Although performance is largely excellent, Huawei operates on its own slightly modified version of Android, Emotion UI. This is generally smooth, but it does duplicate some apps and its style is not to everyone's taste. It features a responsive fingerprint scanner, which can also be used to navigate the screen, although this takes some getting used to and can be switch off. On careful use the battery will easily last the day.
Pros: Great camera, battery life, good performance
Cons: Interface is not perfect, prohibitive price
Price: £550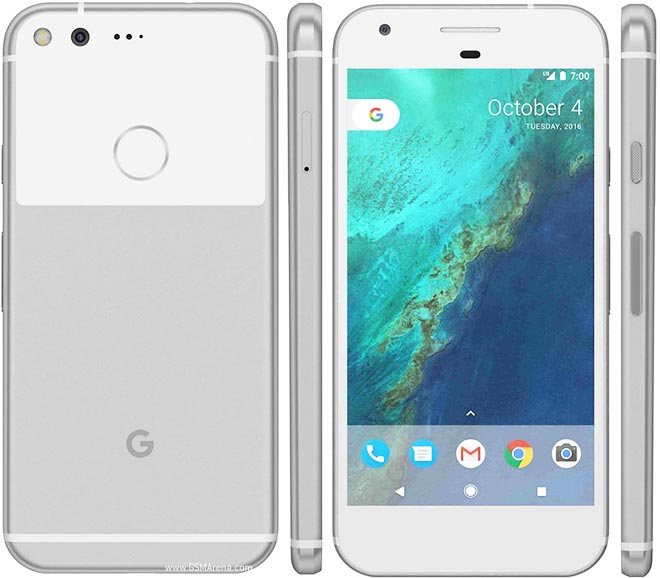 Screen size: 5 inches
Weight: 143g
Battery life: 26 hours
Lightning fast and powerful with a market-leading camera, the Google Pixel is a quality flagship phone and is built for Android 7.1. It has excellent battery life, boasting around 7 hours in 16 minutes of charging, with 32 GB of storage and the addition of unlimited photo storage in the cloud. It has 12MP front and 8MP rear mounted cameras, and clever new features such as "moves", shortcuts such as quickly twisting the phone to swap between front and rear cameras.
But none of this comes cheap. At at almost £600 for the cheapest version this is a significant investment, and it lacks some features of other flagship Android phones, such as Samsung's water resistance and no stereo speakers. It is also one of the main smartphones on this list most easily mistaken for an iPhone, if that bothers you.
Pros: Solid battery, good camera, lots of cloud storage
Cons: Expensive, unimpressive design
Price: £599
Source: This article was published telegraph.co.uk By Matthew Field