SANDY — 2016 has provided an interesting election cycle to say the least, and an online study by a Utah-based digital marketing agency shows exactly how interesting it is online.
Oozle Media, which is based in Sandy, searches trends online for clients. In coming up with a political-themed project with just weeks until the general election, the company decided to analyze how search engine company Google autocompleted search resultsfor the top-two candidates.
"It's a pretty interesting way to get an insight into what the general populous thinks (of) a subject by what they search in Google," said David Smith, Oozle chief operating officer. "I think this is a real unvarnished view on what people are comparing these (candidates) to. Most of it I think is done in jest, but I don't think you would have seen this same sort of intensity and volume with the previous election."
While a couple of results are outlandish, a characteristic was noticed among the results between Trump and Clinton: there's plenty of negativity toward the Republican and Democratic candidates.
"There's been unprecedented negativity in this campaign and both of the (Republican and Democratic) candidates are disliked by a majority of their party, so you see that come through in the search results," Smith said, noting that much of what is searched is based on what people see and hear and type into Google to research further.
So what are the crazier results? Clinton is referred to a Sith Lord from the "Star Wars" movie franchise. Trump got compared to "an angry aimless dictator." Those are just a few of the results.
Both were compared to villains from the Hunger Games franchise, Oozle team leader Patrik Connole said — but, conversely, both were also referred to as "awesome" and as "bae" in the results showing that the results aren't all bad.
"(It was) more creative than we thought when got started," Smith said.
Each search was conducted using an incognito tab to lift bias in Google's regional results customization, thus giving a larger national result instead of what Utah's results are.
Smith said Oozle's future projects don't bode well for the leading candidates either. The company is finishing a scatterplot based on Google results of "positive to negative and if that inspires confidence or fear."
"Overwhelmingly for both candidates, it's in the 'inspires fear' and 'is negative' quadrant of the scatterplot," Smith said. "I'd say three-quarters of the search terms are negative and not confidence inspiring."
The negativity toward the leading candidates has helped third-party candidates, especially in the Beehive State.
On Wednesday, FiveThirtyEight editor-in-chief Nate Silver was a guest on "The Late Show with Stephen Colbert" and said that Utah's disdain for either of the major candidates led independent candidate Evan McMullin to his recent surge in the polls.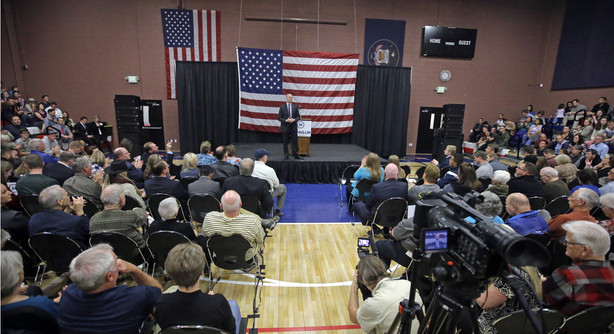 "Like literally nobody ever heard of him until seven days ago," Silver said on the show. "He moved up from 10 percent to 31 percent in the polls in the span of about a week."
It's almost no coincidence, Smith said, that McMullin's recent rise has happened among Google search results in the same way his name has risen in the poll numbers — and it all happened after the leaked "Access Hollywood" video of Donald Trump led to a slew of Utah Republican leaders revoking their endorsement of the candidate.
"(McMullin's) poll numbers track almost exactly with the number of searches that are happening," Smith said. "That's all happened after the Donald Trump video got released."
Source : ksl