Wikipedia developers have sketched out designs for a Wikipedia Search Engine, which would give users a one-click replacement for Google search. The search engine could also be embedded in devices such as the Kindle, or smartphones.
It's an fascinating strategic option, and an aggressive one. Google's site scraping algorithms and front page Info Box have made visiting Wikipedia's page superfluous, if all the user wants quick facts, or a factoid. Instead of finding Wikipedia through Google, you could bypass Google completely.
The concepts were revealed after much sleuthing by Andreas Kolbe, board member of Wikipedia's Signpost and occasional Reg contributor.
Most of the staff employed by the cash-rich Wikimedia Foundation work in software development, a fact acknowledged by the appointment of an experienced software exec, Lila Treitkov, to run the non-profit outfit. In recent years, the unpaid Wikipedia volunteers who create the content had complained about the tools WMF produced for them, even going so far as to reject them.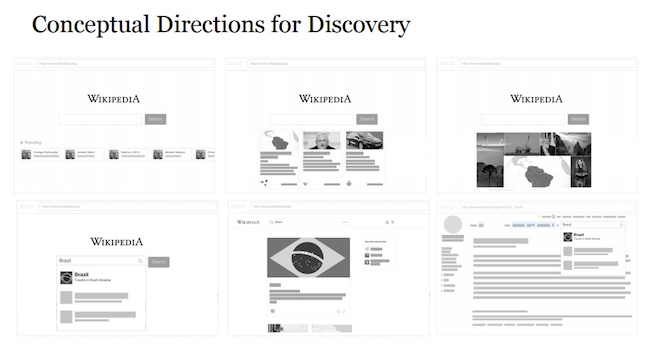 One of WMF's responses is controversial; the Knowledge Engine project, described by Kolbe. It's shrouded in secrecy, and Knowledge Engine was cited by former community board member James Heilman as being the cause of disagreements between himself and the WMF board. Heilman was dismissed from his post during the Christmas holidays. It's also caused disquiet because it was funded not from donations, but by a restricted grant from the Knight Foundation. WMF has not published the grant application in full, only excerpts.
From these some "deliverables" have been made public, in which we can find "an improved search engine and API for Wikipedia searches" – but a more ambitious search is explicitly denied:
Are you building a new search engine?
We are not building Google. We are improving the existing CirrusSearch infrastructure with better relevance, multi-language, multi projects search and incorporating new data sources for our projects. We want a relevant and consistent experience for users across searches for both wikipedia.org and our project sites.
In 2008, Wikipedia co-founder Jimmy Wales attempted to create a for-profit search Google rival that cashed in on WIkipedia's brand – called Wikia – but it failed to achieve scale, and was shut down after a year.
The new designs show how Wikipedia.org could be "reimagined", incorporating the Knowledge Engine, to provide a Google-style search engine.
But what would Wikipedia actually search?
With more than five million articles, WMF developers have a wealth of content. So would a Google-style Wikipedia search page or app need to index anything else?
Perhaps not. Since all the world is contained in Wikipedia (or a peculiarly warped representation of the world, at least) then its map is as good as the territory.
And there's more on Wikipedia than many people think.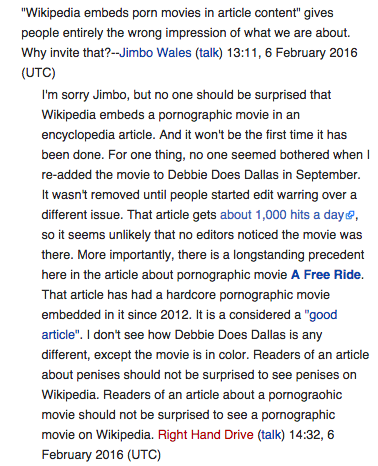 Wales is currently debating with contributors the merits of embedding the entire porn movie Debbie Does Dallas in the Wikipedia entry for the film.
Jimbo isn't keen.
He warns: "It is very easy to imagine a really stupid press story or campaign against us about this. 'Wikipedia embeds porn movies in article content' gives people entirely the wrong impression of what we are about. Why to invite that?" asks Wales.
But he hasn't been paying close attention, it turns out. It already is.
"The movie was embedded in Debbie Does Dallas so that readers could choose to play it right in the Wikipedia article. For reasons I do not understand, an edit war broke out...," explains contributor 'Right Hand Drive'.
"Readers of an article about a pornographic [sic] movie should not be surprised to see a pornographic movie on Wikipedia," he continues. "Did you take a look at A Free Ride which has included a pornographic movie in the article since 2012? Can you explain why Debbie Does Dallas is any different?"
So why go outside Wikipedia for any of your needs? It's all there. With porn on tap, Wikipedia Search could be a winner. ®
Author : Andrew Orlowski