The multi-dimensional travel buying journey is gaining yet another route to market as we increasingly turn to voice search when planning, purchasing, preparing and enjoying travel.
NB: This is an analysis by Kevin Mullaney, head of the digital at Flagship Consulting.
Considering that 60% of travel searches are carried out on mobiles, it was only a matter of time before users started ditching text in favour of talk.
Comscore predicts that by 2020 the majority of searches will be voice-activated, which isn't too far-fetched – considering the fact that 60% of users have only used voice for the first time in the past year, accounting for about 10% of the online population.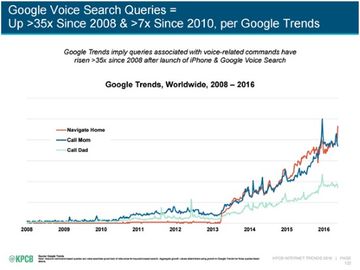 This is a trend fuelled by screen-free speakers such as Amazon Echo (Alexa) and Google Home.
Both are expected to reach over 30 million customers in 2017, prompting players like Kayak and Skyscanner to develop their own voice-first interfaces for travel planning.
This shift in search behaviour from short "pigeon speak" searches to longer-form "conversational" queries presents significant challenges for search engines and therefore tangible opportunities for the whole travel ecosystem.
Behind this new conversational tone is real commercial intent, as the most common voice searches are done to save time. Users are looking for where to go (tourist boards/travel agents); how to get there (transport); where to stay (accommodation) and what to do (restaurants/attractions).
This typifies the new voice search landscape, as travellers have a clear idea of what they want to achieve, turning to voice commands to save time and find the nearest or most convenient way to take action.
Fortuitously for the travel industry, Google already has a deep understanding of its products, meaning that using voice search to hunt for travel can deliver a comparable experience to text search.
For travel brands the world of voice search is segregated into two clear buckets, the quantitative things that Google understands (structured data) and the qualitative things it doesn't (unstructured content).
1. Structured Data – don't leave Google guessing
Over the past few years all search engines have adopted a structured (semantic) vocabulary that uses a new type of HTML code (schema markup) that explicitly tells search engines about various known entities, be that a destination, hotel, departure time, price or review.
As more travel brands explicitly tell search engines about specific product and business attributes, in a format they can easily process, they are increasing their chances of being featured in voice search recommendations.
So the more structured information search engines like Google have, the more confident they can be indirectly answering straightforward, even open-ended, questions.
Questions like:
"I'd like to plan a trip to Portugal in November."
Providing Google knows an individual's current location, it can pre-populate its Flights App to suggest the cheapest weekend and carrier to fly to Faro (a destination it knows the searcher has travelled to before given previous itineraries):
Even when asking longer form, natural language queries such as What are the best
Share this quote


"What are the best four-star hotels near Vale de Lobo in the Algarve?"Google can still provide a useful range of results based on the known relationships between hotels [business type]
Google can still provide a useful range of results based on the known relationships between hotels [business type], four-star [business attribute], Vale de Lobo [town] and the Algarve [region]
Google can also deliver highly accurate answers for queries around places to eat and things to do, by feeding on the structured data it has in its maps platform.
So any travel businesses looking to attract guests will want to focus on their local presence in Google My Business, Bing Maps and Apple Connect, as well as other key directories like Yell and Thompson Local which share their business data with a variety of other local data sources (such as satnavs).
Beyond claiming and fully populating business profiles on key directories, all travel businesses need to implement schema markup on their websites in order to tell search engines the key business information that will help it deliver answers.
Things like address, availability, pricing, events, business category and any other attributes customers might be searching for.
2. Unstructured Content – give the people what they want
The real challenge facing search engines is they are only confident in returning accurate results for things they have been asked many times before, adjusting the results based on what users historically click on and find most useful.
15% of daily searches, however, are still completely new to the algorithm; and this trend is only set to increase as longer form, more personalised voice searches become the norm.
For example, if Google is asked to find the same Algarve hotels as before but with slightly different search criteria (e.g. "with a swimming pool") or it is asked to plan a more complicated multi-leg trip to smaller regional airports, it will defer to Expedia or Skyscanner search pages.
This is because it has encountered new search parameters it doesn't recognise (i.e. things that aren't currently supported by schema markup).
And where search engines fall short, travel brands can step in to provide value, creating lots of informational micro-content which fill in Google's gaps in knowledge.The types of content travel brands might want to explore would be:
The types of content travel brands might want to explore would be:
FAQs: individual pages which directly answer very specific conversational questions. "When is the best time of year to visit Hong Kong", or, "What is the exchange rate between the Yen and the Dollar."
How-to guides: short, number labelled step-by-step instructions to common problems. "How do I apply for a visa for Vietnam from London?"
Destination guides: providing top picks and tips for specific situations and locations. "Top things to do in Malmo when it's raining."
Planning: helping travellers find the right parts of the world to visit. "What are the best beach holiday destinations in November?"
By creating this targeted long-tail content, travel brands are able to corner off local markets and take home all the spoils from a single search.
Unlike regular results; Google only returns, and reads out, the top answer or result which is a small 'snippet' of travel content. 
So in return for providing the right answer, Google will be giving a robotic shout out to brands and will link to them exclusively.
To do this, travel brands need to listen to customers and catalogue all the questions people are asking when they call, speak with a customer services representative or a travel agent.
Sourcing these questions directly from customers, in their own words, will help inform the voice search strategy and enable businesses to surface for more voice searches.
Following this strategy won't just help travel brands secure their voice search future but also help reach more customers no matter the device or input method, as answers become more common on desktop and mobile search too.
Although this answer based approach will attract relatively few searches individually, they all add up to an aggregated pool of interested and informed travellers.
This exposure should last in perpetuity, making a real difference in the long term and boosting a brand's overall share of search.
[Source: This article was published in
phocuswire.com
- Uploaded by the Association Member: Anthony Frank]