Some users are seeing black screens with the iTunes logo after initiating the iOS 10 update over Wi-Fi. This screen will prompt you to update via your computer and iTunes if your phone does not have enough space.
Apple sent BuzzFeed News this statement: "We experienced a brief issue with the software update process, affecting a small number of users during the first hour of availability. The problem was quickly resolved and we apologize to those customers. Anyone who was affected should connect to iTunes to complete the update or contact AppleCare for help." Sept. 13, 2016, at 11:36 p.m.
Have you ever used the Stocks app? Or Keynote? Or the Apple Watch app?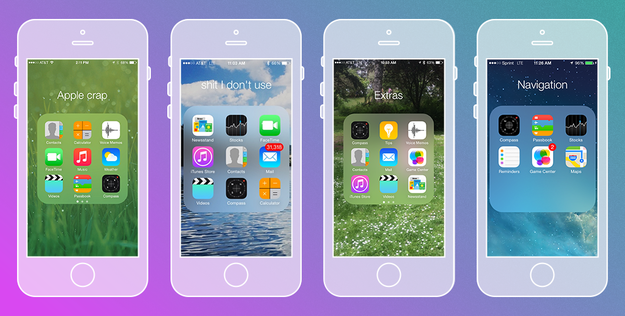 Probably not, right? But for years you haven't been able to delete built-in Apple apps from iOS.

Well, starting today, you can finally DELETE 'EM.
First, back up your phone.
Connect your iPhone to a computer to back it up via iTunes. You can also back up your phone using iCloud by going to Settings > iCloud > Backup > turn it to on. If you don't have enough iCloud space, try this trick.
Don't skip this step! You could lose all of your data!
Next, update to iOS 10 in Settings.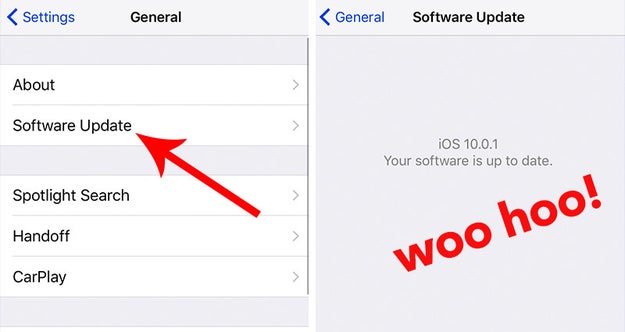 The fastest way to download iOS 10 is to connect the device to your computer. If you have the latest version of iTunes, open the app and then go to Summary. Next, click Check for Update.
You can also update the device wirelessly. Open the Settings app > General > Software Update and tap Download and Install.
These devices can upgrade to iOS 10: iPhone 5 or newer, a 6th generation iPod Touch, iPad Pro, iPad 4 or newer, and iPad mini 2 or newer.
Finally, you'll be able to do THIS.
Press and hold the app icon until it shakes, then tap the little "x" button in the corner. If you ever decide you want to check the Dow Jones or whatever, you can re-download deleted default apps by searching their name in the App Store.
BOOM.
The iOS 10 update is full of other cool stuff too, like the new iMessage with which you can securely send your friends nudes and LASERS, plus third-party Siri integrations and the all new Photos app.
There are a bunch of other apps you can remove, too.
Removing all of these apps only amounts to 150MB of freed up storage. But it is helpful if you like keeping your homescreen clean.
Oh. And if you remove Contacts, you won't lose that information — it'll all be stored in the Phone app. Some apps will also disappear in other places when you delete them (the Calculator will no longer show up in the Control Panel, for example).