Send recommendations to your friends in 5 easy steps
At some point of another, all of us end up offering recommendations to friends. I don't know about you but I usually just create a list for them.
Sometimes, it's for a friend visiting from out of town who wants to know where I think they should go grab dinner. Other requests area little more elaborate, for instance, recommendations for an entire city or even country that someone plans on visiting for vacation that I (or you) just happen to be an expert (at least in their opinion) on.
For me, my superpower tends to be San Francisco breweries. San Francisco, my current hometown, is home to some amazing beer spots, and I've made it my own personal mission to get to know each and every one of them.
San Francisco also happens to be a really popular place for my friends and acquaintances to end up. We host a ton of different tech conferences here every year, and really, SF is a pretty fantastic place for a vacation as well. And so, each time someone visits I'm faced with the task of telling them where I think they should drink, often followed by questions like "How do I get there?" and "Is it near my hotel?"
Now thanks to a Google Maps feature, the answer can be as simple as just sending the person a link. With Lists, I can create a list of all the top watering holes in town, and then Google will plot them out on a map for me. That means that whomever I send it to can figure out where my selections are all on their own.
They can also tap into individual selections to determine things like hours, or whether or not a place sells food (no more late-night texts for me!). Lists you create within the feature can be saved as public or private. So, if you're creating a list of bars, like me, then you can make it public so anyone can see it. If you have a list you'd rather keep to yourself, then you can choose to set the list to private as well.
Finished lists can be shared with your friends and colleagues via text, email, social networks, and most of the popular Messaging apps out there, so they can literally be shared with almost anyone. When a friend gets your list, they can opt to Follow it, which means it will be available within Google Maps for them to see and use for all eternity (no asking you for the same recs next time they're in town – yes!).
Creating a list within Google Maps is a fairly easy process, and just requires that you (and the friends you're sending the list to) have an Android device or iPhone, and have the Google Maps app installed. Here's how to make it happen.
1- Find the Thing You Want To Add To a Google Maps List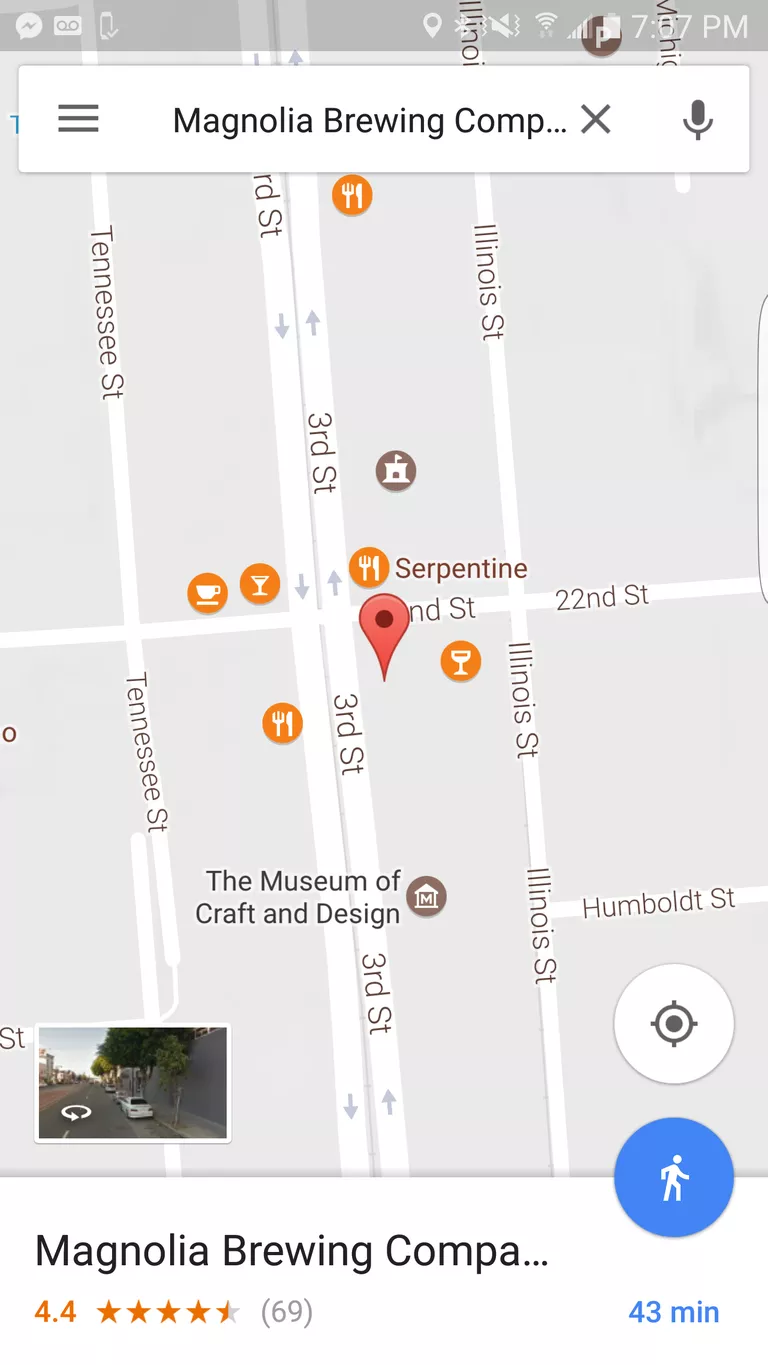 The first step in creating a new Google Maps list is to find the first thing you want to add to that list. So, for me that would involve looking up a brewery I want to add to the list, just as if I wanted driving directions there. When you see the place you want in the search results, tap on it.
(In case you've never used Google Maps before, there's a search bar at the top of the app when you launch it. Type what you're looking for into it.)
2- Go to The Page For That Place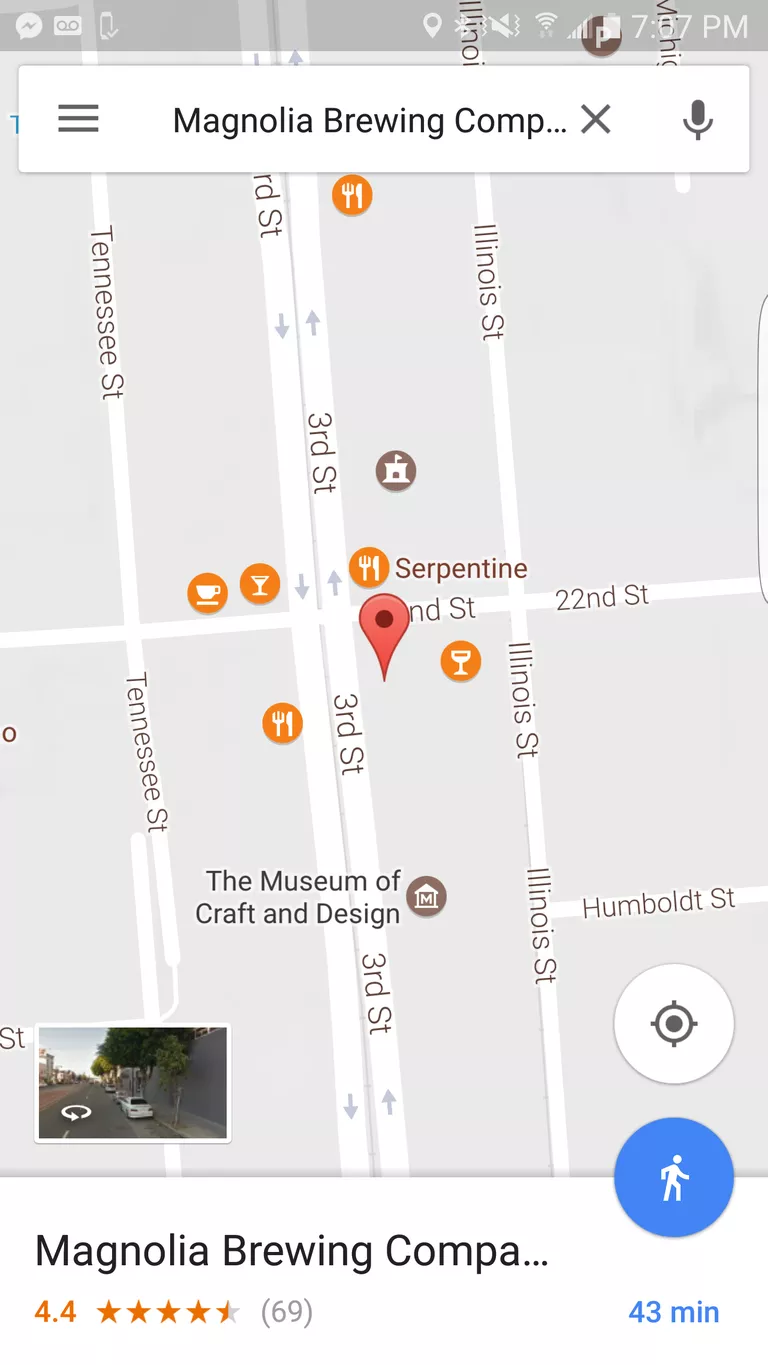 Once you've selected a location, at the bottom of the page you'll see the name of the location you're looking for, as well as how long it will take you to get there if you were to leave your current location right now.
Tap on the location at the bottom of the page to bring it up to a full screen.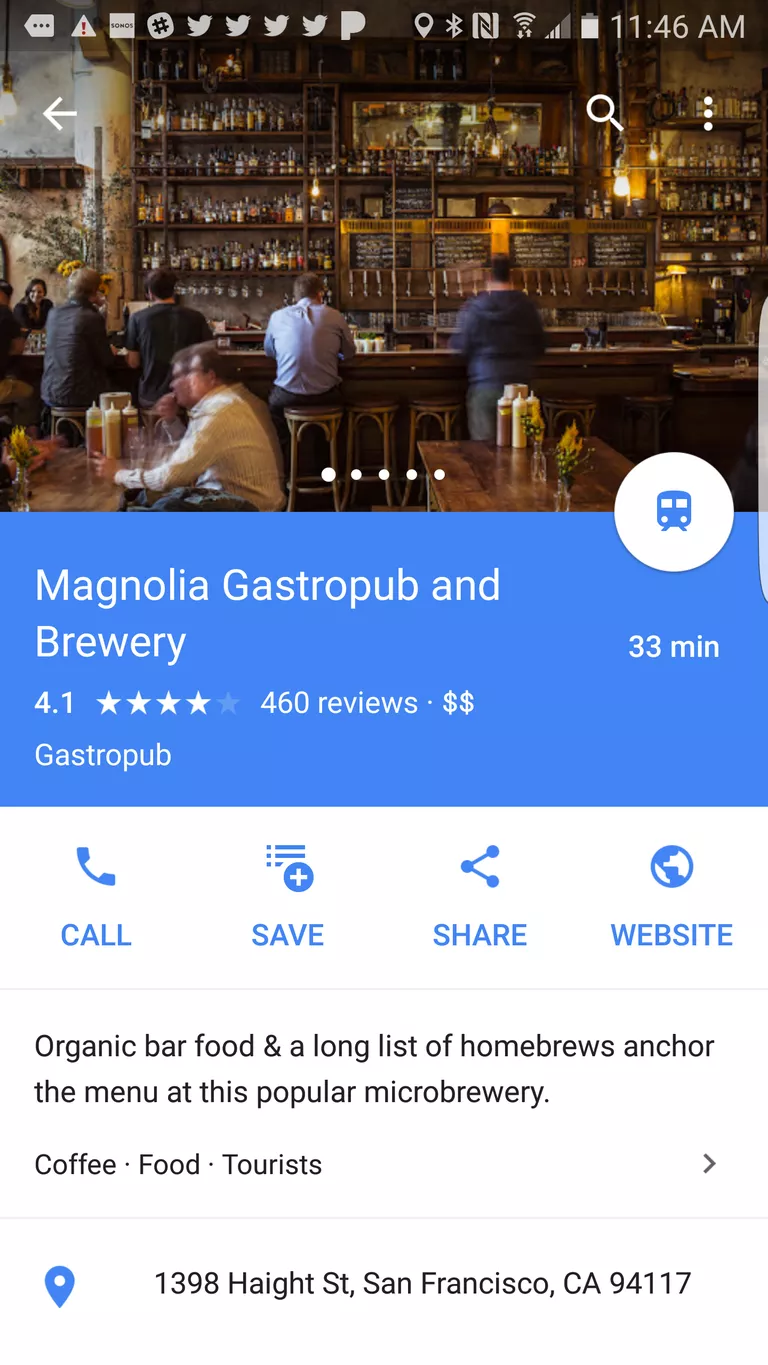 The company's business page should tell you its average rating on Google, a brief description of what happens there. For instance, my search for Magnolia Brewing Company in San Francisco says that it's a "gastropub & brewery serving seasonal & artisanal American fare, plus draught & cask beer."
Below the company's name and above its description you'll see three buttons: a button to call the business, one for its website, and a Save button. Tap the Save button.
4- Select the Google Maps List You Want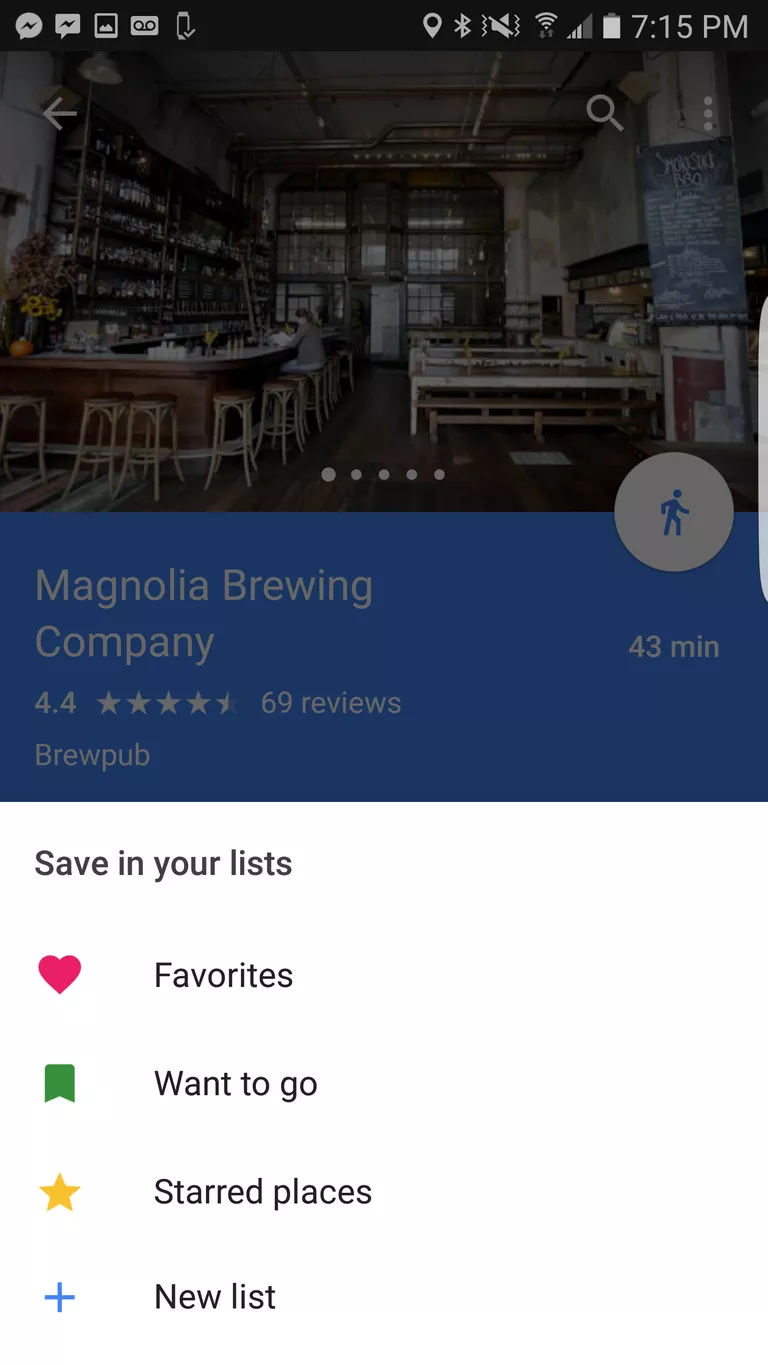 When you tap save, a number of list options will pop up. You can save the location your your favorites, places you want to go, starred place, or "New List."
You can pick any of these you want, but for the purpose of this demo we're going to pick New List. 
5- Name Your Google Maps List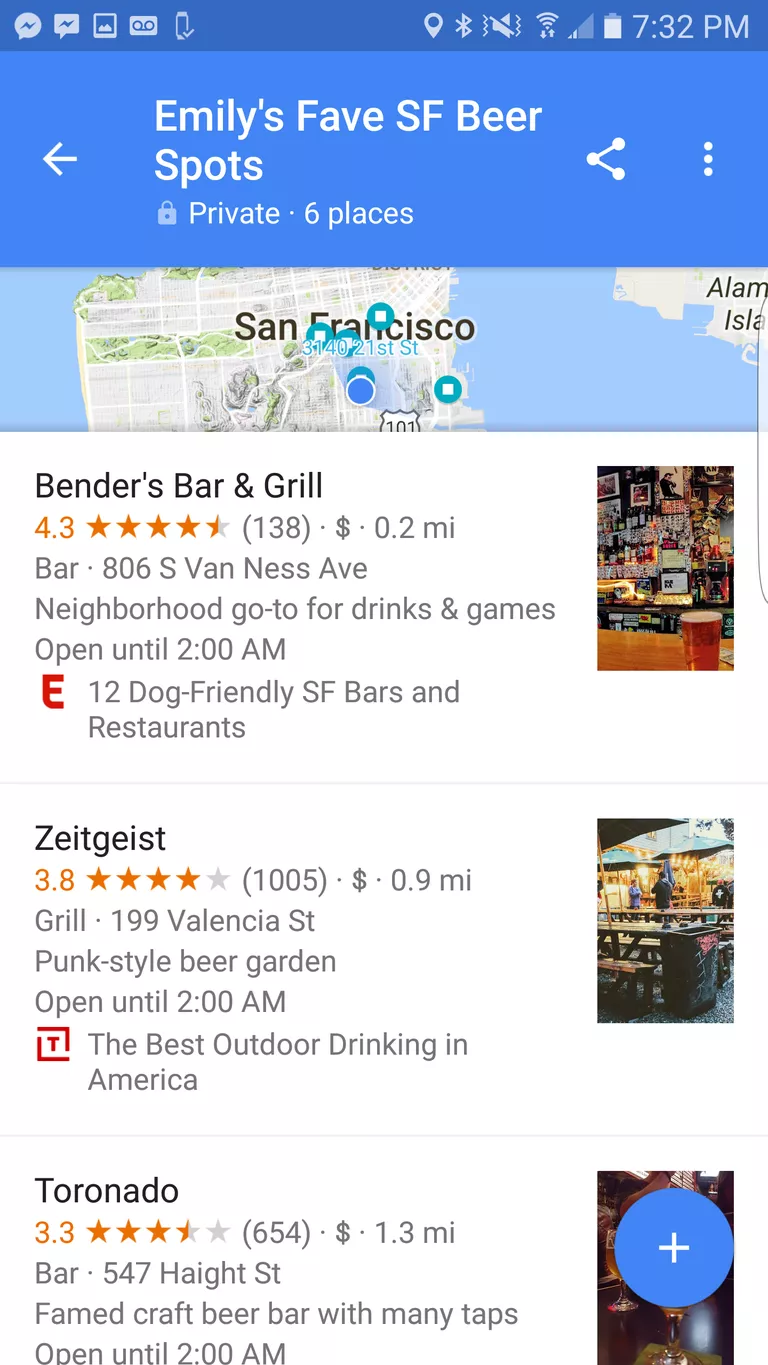 When you select New List a box will appear asking you to name your list. Give your list a name that describes what it is enough that it will be easy for you (and the people you send it to) to find it later on.
For my beer list, I'm going to call it "Emily's Favorite SF Beer Spots." Keep in mind that your List's name has to be under 40 characters, so be creative, but try to not get too long-winded.
When you've come up with the perfect name and typed it in, click Create at the bottom right on that pop-up box. You'll see a brief pop up letting you know that your location was saved to the list.
If you want to see everywhere you have saved, you can tap on the link within that popup to pull up your whole list as it is now.
6- Add Something Else to Your Google Maps List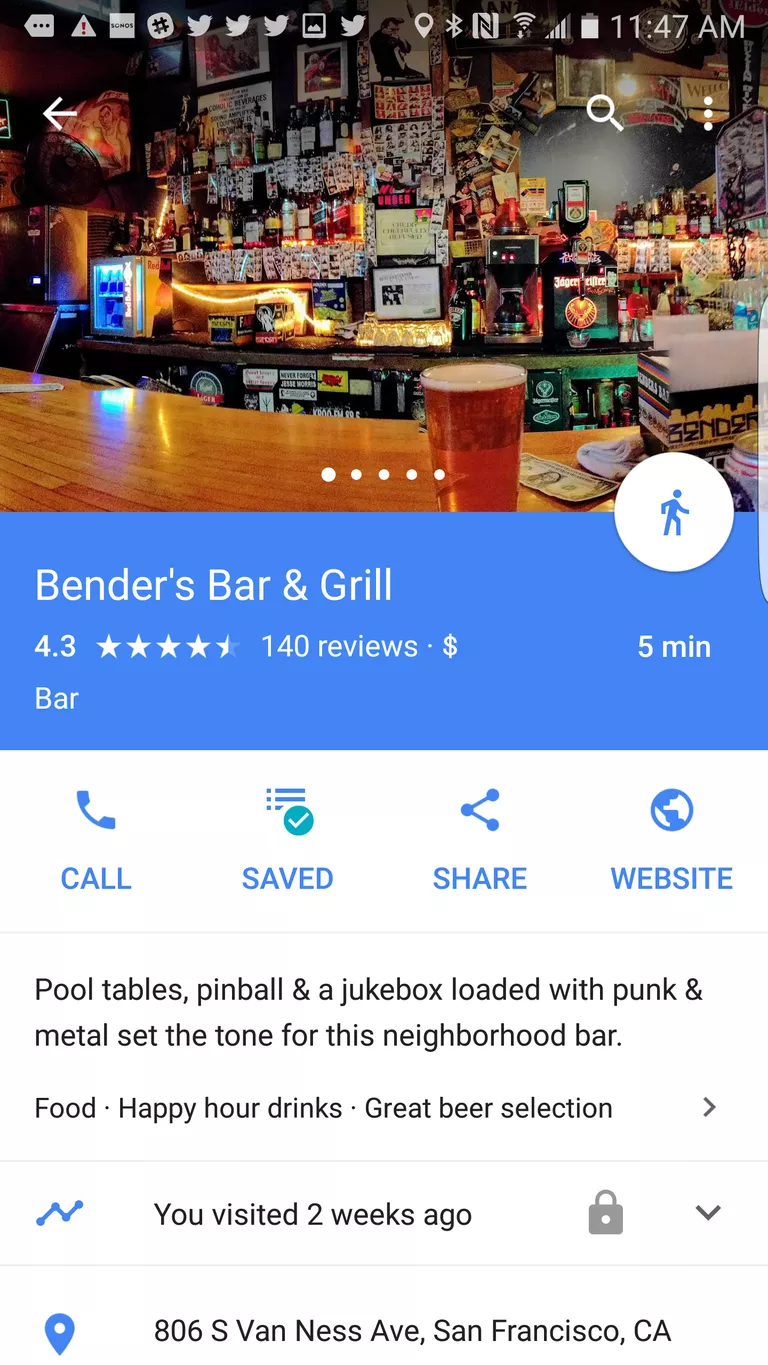 That's basically it. Repeat steps 1-4 for each item you want to add to your list, and then instead of adding a new list like we did in Step 5, select the list we just created from the menu when it app.5
 Source: This article was published lifewire.com