Locating public records is one of the most popular search activities on the internet, and millions of people look for vital, historical, and other publicly registered documents every day online. Find a birth certificate, locate census records, track down land use documents, and much more with this list of the best websites for finding public information on the Web.
Note: These resources only cover publicly available records that are made accessible online. Some kinds of public records, such as birth certificates, are not made freely available online and must be accessed via your local records office. We do not suggest that readers pay for information found online unless it is from an approved, secure state or federal resource. 
Use Google to find public records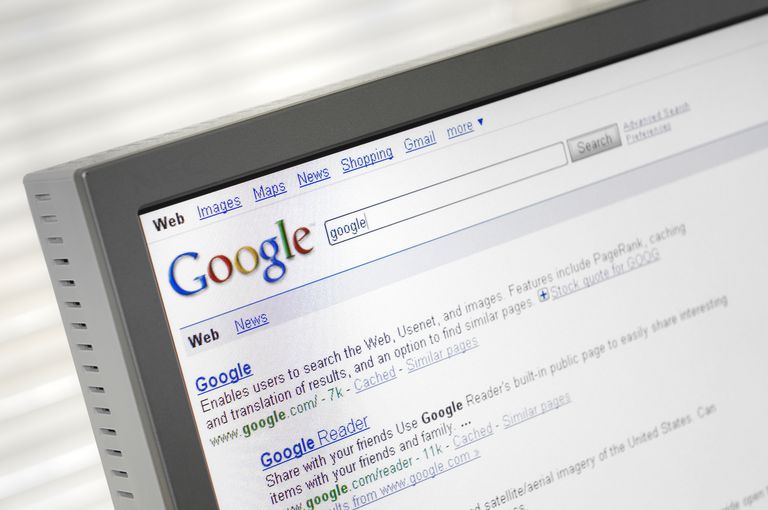 Yes, Google definitely belongs on this list of free public records search sites. Not only is it free, it's also one of the world's largest databases of information and it's a great way to track mentions of your topic on the Web. 
In addition, Google is one of the most useful places to start looking for records, simply because its index is so incredibly large and can pull in details and resources you might not have thought to include otherwise. 
VitalRec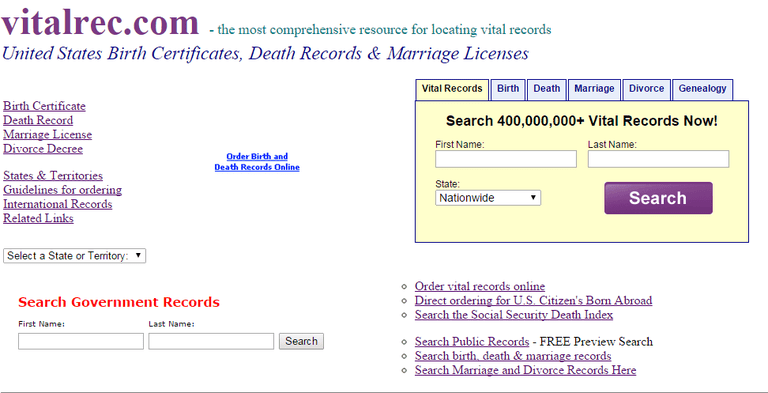 VitalRec is one of the most comprehensive sites for locating vital records on the Web. This site offers links to every state, county, and town records office, with useful information on what you'll need to either request records online or show up at the office itself.
VitalRec explains how to obtain vital records (such as birth certificates, death records, marriage licenses and divorce decrees) from each state, territory and county of the United States, as well as an impressive international section. The site is organized by state; locate your state, then browse the available vital records links. No registration is required to use this site. One particularly useful feature of VitalRec.com: all fees that might be included in your public records searches are clearly listed and frequently updated.
How can I find what I'm looking for?
VitalRec does not link directly to vital records. However, VitalRec links directly to each state's information on EXACTLY how to obtain vital records: birth certificates, death notices, marriage records, and more. With that in mind, using VitalRec.com as a starting point in your records searches can obviously save you a tremendous amount of time and effort. To find information on how to obtain vital records, you can browse the States & Territories, or the International Records section. Each state and country's page has plenty of information on how to obtain vital records for that particular region; plus, VitalRec has a detailed set of guidelines for ordering these records with all the information you need to include in your request.
Why should I use this site?
VitalRec.com puts all the information you need to find vital records in one convenient place. Instead of trying to find individual state, county, or town records offices in the phone book, this comprehensive directory gives you direct access to exactly what you're looking for, with practical instructions on what you'll need in person, on the phone, or via email when requesting the records you need. If you're doing any sort of genealogical research, VitalRec.com can make your hunt much more enjoyable simply by cutting down on the amount of administrative work you'll have to do in order to find and receive birth, death, marriage, or divorce records.
Finding Obituaries
Obituaries, both present-day and historical, can be found online with a little bit of sleuthing. Most obituaries are placed online, eventually, via the newspaper that originally published them. It can take some considerable patience and preparation in order to find many obits, but they can be found on the Web.
In addition, DeathIndexes.com is a (mostly) free genealogy search site; excellent for those researching genealogies in particular. The website is a comprehensive directory of death indexes on the Web listed by state and county, with easily navigable links to everything you might be looking for. Death records are included here, as well as death certificate indexes, death notices and registers, obituaries, probate indexes, and cemetery and burial records.
One of the more common public data searches pertains to finding grave information: cemetery records, interment information, even images of the gravesite. The website Find a Grave is extremely helpful in this regard. Celebrity interments can also be found here, with accompanying information and photos.
Family Search is primarily a genealogy tracker, which makes it an invaluable people search tool as well. Type in as much information as you know, and FamilySearch will bring back birth and death records, parental information, and more.
Zabasearch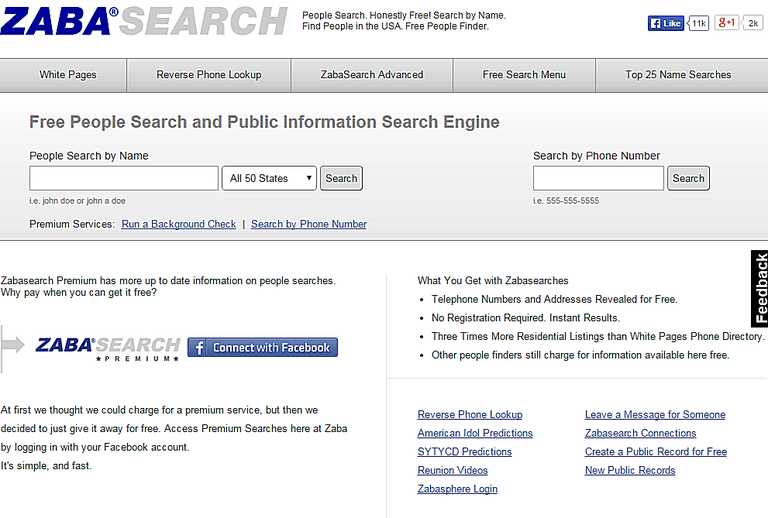 Zabasearch is somewhat controversial because it brings back so much information. However, all of this information is publicly accessible; Zabasearch just puts it all in one convenient place. Zabasearch is considered a good "jumping off point"; it gives you a lot of publicly accessible information that you can use to track down even more public data using other Web search tools (such as the ones included in this top ten list).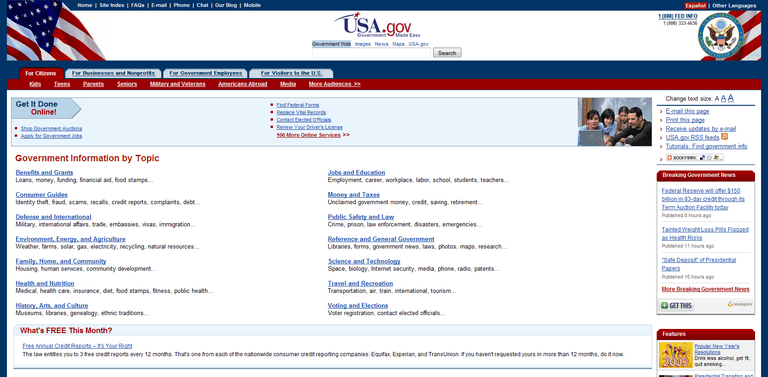 USA.gov is is a search portal that gives users instant access to all sorts of information from the United States government, state governments, and local governments. Every agency that handles public information in the United States can be found somewhere in this huge database. The site can be somewhat overwhelming at first simply because of the volume of information available.
Searchable Public Databases
Family Tree Now is a site that has gained quite a bit of popularity simply because it retrieves so much information from a wide variety of public databases and puts it all in one convenient place. 
For the United States, Canada, and the United Kingdom, Census Finder is a free public records search site that can help you track down all sorts of interesting demographic information. For genealogy researchers or anyone looking to track down vital records, census information can become some of the best and most often utilized sources for content, especially since most censuses in the last century are recorded or transcribed online.
DirectGov is a searchable public data search database of a wide range of government information and services in the United Kingdom, and is considered an excellent source of free online information. All public services in the UK are located here: job search resources, student finance information, taxes, housing, all sorts of governmental resources can be found all in one convenient place. Personal public records are not necessarily available here, but if you're looking for more general bureaucratic resources for the UK, this is the first place to look. 
American Fact Finder offers population, housing, economic, and geographic data for any community in the United States. You can use this database to dig up information on your person's community, schools, and other demographics, which can aid in your genealogy searches.
If you're thinking about moving into a new neighborhood, one of the first things you'll want to do is check if there are any registered sex offenders in the area. Unfortunately, many people neglect this simple step. However, you can accomplish this very simply and easily with Family Watchdog's registered offender search utility.
Here's how it works:
Navigate to Family Watchdog Search. You'll see three fields: last name, first name, and state.

You must have at least a last name in order to use this search. However, you can get around this pretty easily simply by entering the first two letters of a name, such as "sm" or "ar". Obviously this is less than ideal, but let's keep going.

Choose the state you want to search in, or, you can just let the utility search all states at once.
Results will come back with clickable links to pictures and profiles of the registered offenders, along with their residential addresses and maps.
Family Watchdog Search is a good way to search for this kind of information; you can also use the The National/State Sex Offender Public Website for the most recent information available from all 50 states, the District of Columbia, and Puerto Rico for the identity and location of known sex offenders
 Source: This article was published lifewire.com By Jerri Collins