Use Facebook Advanced Search to Find All Kinds of Things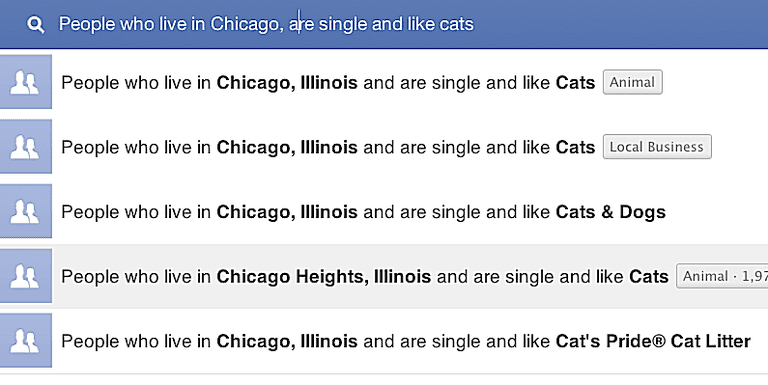 Facebook advanced search is more a concept than a function. The world's largest social network had a standalone advanced search feature in the early days of its history but released a new service called Graph Search in early 2013 that essentially replaces the older advanced search features with a powerful new search engine.
To do an advanced search on Facebook, it's best to sign up for the graph search feature if you haven't already activated it and start learning how it works.
Our "Facebook Search Guide - Intro to Graph Search" provides an overview of how it works and the types of content you can look for and find with the so-called Graph Search. This article provides screenshots and explanations of more advanced query types and refinement options.
Reviewing the Basics
To start searching, remember you can just click on the Facebook logo or your name in the upper left corner and type any query. You can search for people, places and things matching all kinds of different traits or criteria, including geography, dates and clicks on the "like" button.
Two general filters you likely will use are "friends" and "like," since those refer to friend connections and use of the "like" button throughout Facebook.
Also remember, it's smart to pay attention to the phrasing suggestions Facebook presents in a drop-down list whenever you start typing a query. OK, that's it for basics, ready to move on?
Query Phrasing Examples
Let's start with a general query not restricted to friends. You might type, "people who live in Chicago, Illinois and are single and like cats."
When I did this, the query turned up more than 1,000 people who matched the search, so Facebook presented two suggested phrasings that sought clarification on whether I meant "cats" as an animal or "cats" as a business. Those suggestions are shown in the image above.
When I specified the "animal" type of cats, Facebook presented a list of matching users, with a vertical stack of profile photos of people who live in Chicago and have clicked the like button on cat photos.
Facebook also asked if I wanted to see people who had liked "Cats & Dogs," the movie. And if I clicked the "see more" button, it offered "West Chicago" as a refinement option.
Click the "NEXT" button below to see the list of additional filters that Facebook typically shows for people searches like this one.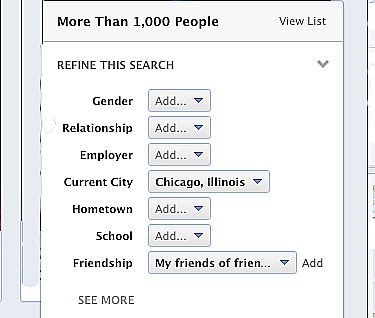 Advanced Search Filters for Chicago Cat Lovers
Running an advanced Facebook search like "people who live in Chicago, Illinois and are single and like cats" can produce so many results that you'll have to refine the query if you want to see any meaningful results.
The image above shows the typical people search filter box that is available on the results page for any query involving people. I've found that using this box is the best way to narrow a Facebook people search.
As you can see, the box allows you to refine Facebook people search results by gender, employer, hometown, employer and so forth.
Each of those filters has additional sub-categories you can choose. For example, under "friends," you can select one of these:
My close friends

My friends

Friends of my friends

Not my friends

Friends of Joe SixPack (substitute any friend of yours for Joe)
Okay, let's look at a totally different example, this one involving Paula Deen and restaurants. It will allow us to explore the "places" bucket of content and the "like" button.
Click "NEXT" for a new example.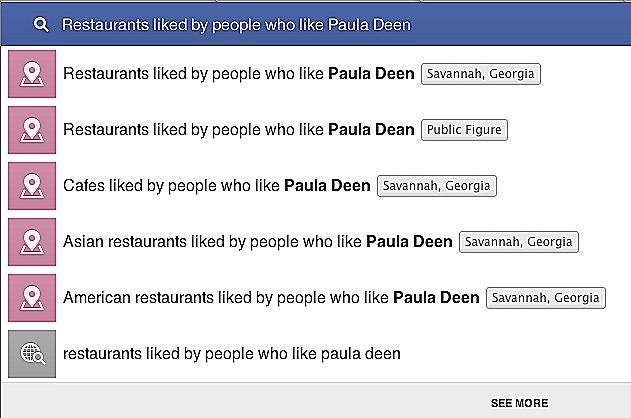 OK, let's try an advanced Facebook search involving restaurants. Say you're a Paula Deen fan and you start typing a query that says something general: "restaurants liked by people who like Paula Deen..."
Facebook may ask you to be more precise, since there are so many restaurants liked by Paula Deen fans.
It may suggest you look at Savannah, Georgia restaurants, in Deen territory. It also will likely offer suggestions for types of restaurant queries that it can handle, as shown in the image above. It may rank them by popularity, such as Asian, American, Mexican and so forth.
If you typed a more general phrase, leaving out a connector such as "by," and simply said "restaurants like friends Paula Deen," it would offer more precise versions of that query, such as restaurants...
liked by my friends who like Paula Deen (public figure)

liked by friends OF Paula Deen (person)

Cafes liked by my friends who like Paula Deen
You get the idea.
Next, let's explore more general searches for based on geography, religion and political views. click "Next" below to see examples.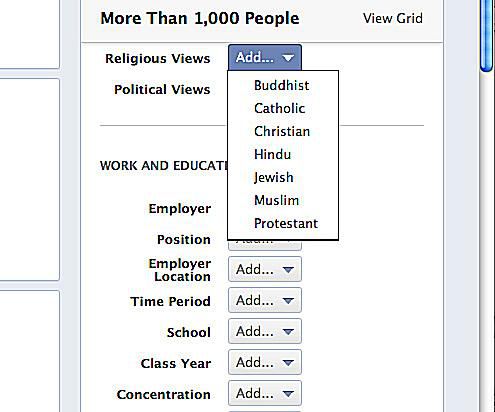 Facebook Graph search makes it easy to do a search by city, because one powerful search parameter for people on the social network involves geography.
You can find Facebook friends by city using either the city where they currently live or their hometown. Both are examples of structured data Facebook stores about users, making it easy to search.
You can also do a Facebook search by city for people you don't know, and based on the privacy settings of each individual, see a list of people living in particular cities who use Facebook that you are not friends with.
I started with a general search on "People who live in Los Angeles, California" and it helpfully told me: "Your results include people who've lived in Los Angeles, California at any time. you may want to limit your search to Current Los Angeles, California residents." As I phrased the question different ways, it also asked if I wanted people who live IN L.A. or people who live NEAR L.A.
The "see more" button prompted me to check for "my friends" who live in L.A. I clicked that option, and it spit out a list of my 14 friends who happen to currently live in or near Los Angeles, along with a list below that of friends of friends who live there.
Advanced Facebook People Search Filters
The filter box for refining "people search results" even further is accessible through a small rectangular tab or label on the right, usually overlaid on the visual search results. What the label says varies with the type of search; in this case it said "14 Friends" since that's how many matches I had. But it usually has three tiny stacked, horizontal bars. When you click on that little label, the filter box opens up with many more options for narrowing(or broadening) your search.
The people filter offers all kinds of basic and advanced refinements. They are classified under headings such as "Relationships & Family, Work and Education, Likes and Interest, Photos and Videos," and so forth.
Sort People by Political or Religious Views?
These filters are very granular, and some are potentially controversial. They allow you, for example, to sort people by their age range, religious views (Buddhist? Catholic? Christian? Hindu? Jewish? Muslim? Protestant), and political views (Conservative? Democrat? Green? Liberal? Libertarian? Republican?) You can even specify what languages they speak. Some filters get into highly personal areas and, therefore, have privacy implications that worry many people.
The image above, for example, shows the religious views options in the search filter box. It's similar to the political views box.
The political views filter, along with the ability to search on who "liked" Barack Obama and Mitt Romney, allowed me to easily sort my friends into those favoring the Democratic or Republican party, at least around the time of the 2012 election. That was a new thing for me--I'd never seen anything like that before--a bunch of profile pictures of my friends sorted by political views.
Extend Your Search in Other Ways
In my L.A. people search, the "extend this search" area at the bottom of the filter box suggested that I might want to expand my search to see "photos of these people," or "these people's friends," or "places where they've worked."
A remarkable variety of search options, indeed. Click "Next" to see more search examples, this time involving apps and who uses them.
Finding Facebook Photos Lots of Friends Like or Commented On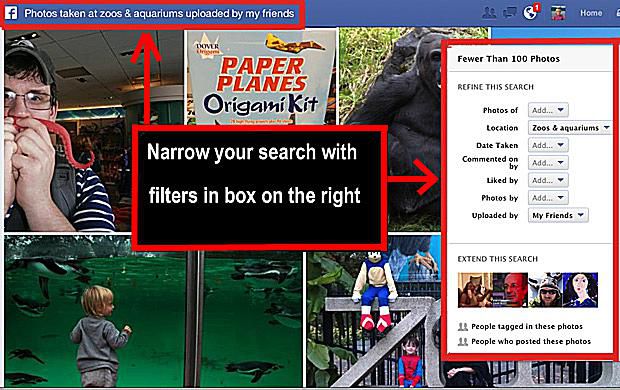 One of my favorite Facebook searches is quite simple: "Photos I have liked."
Despite all the time I've spent on Facebook, I've actually clicked the "Like" button on just under 100 pictures. They obviously moved me, so it was fun going back and looking at them all again.
The "refine this search" button allowed me to also change my query easily to see all the photos that my friends have liked (provided their privacy settings allowed that.) That, of course, turned up the volume on the results, producing more than 1,000 photos.
Facebook's search results counter seems to stop at 1,000; when your results exceed that amount, it won't tell you how many more there are, just that there are more than 1,000. At least, that's what happened in all my trials.
You can do a lot of more specific photo searches similar to the example shown above, in which I searched for photos my friends took at zoos and aquariums. The background imagery shows photos that matched my query, and the filter box popped up on the right after I clicked the little horizontal bars previously mentioned.
I had fun playing around with this one using the filter box (shown on the right), especially using the "commented on" and "liked" filters to see which of my friends had commented and what they said.
(More examples of photo searches are available in our Introduction to Facebook Searching. Also, see our basic Facebook Photos Guide for general info on using pictures on the social network.)
Click "Next" below to see ways you can search for Facebook apps used by your friends.
Facebook Apps Your Friends Use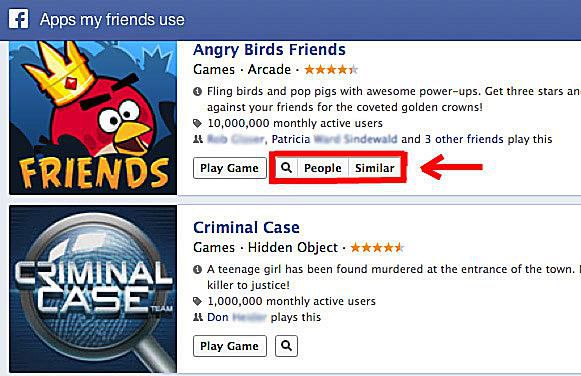 Another interesting Facebook search you can run is "Apps my friends use."
Facebook's advanced search will spit out a list of apps with their icons in order of popularity with your friends, or which ones are most used by your pals.
Beneath the name of each app, it will list the names of a few friends who use it, along with the total number of your friends who use it.
Beneath the names of your pal, it will show a couple of other links allowing you to run additional, related searches. They are outlined in red in the image above.
Clicking "People" will produce a list of a bunch more people who use that app, not necessarily limited to your friends. This one is kind of creepy, but if you have not restricted the privacy settings for your use of this particular app, you could show up in the search results to anyone running a search like this.
Clicking "similar" is less creepy and more useful; it will show a list of other apps similar to that one.
Also fun is using Graph Search to find Facebook apps friends use. Facebook app search is a powerful capability of the new search engine. Here are a few specific queries Facebook may suggest relating to apps if you type apps and friends into the search bar, besides the most obvious one, "apps my friends use":
Apps my friends use that I use

Apps used by my friends who joined X (where X is a group you belong to)

Sports apps my friends use

Books apps my friends use

Apps my friends who live nearby use

Movies apps my friends use
As always, the suggested searches likely will vary based on your personal connections, likes, and interests on Facebook.
That's it for this tutorial. Now go explore the blue search bar. Have fun, and try not to get too creeped out.
 Source: This article was published lifewire.com By Leslie Walker