PALM BEACH, Fla. – President-elect Donald Trump, in the final hours of 2016, restated his doubt about the validity of U.S. intelligence analyses that the Russian government hacked various political organizations with the goal of putting him in the Oval Office.
"I just want them to be sure, because it's a pretty serious charge, and I want them to be sure," Trump said in a brief question-and-answer session as he prepared to enter a New Year's Eve party at his Mar-a-Lago resort.
"And if you look at the weapons of mass destruction, that was a disaster, and they were wrong. And so I want them to be sure," Trump said, referring to the faulty argument pushed by proponents of the 2003 Iraq invasion that dictator Saddam Hussein possessed banned weapons. "I think it's unfair if they don't know. And I know a lot about hacking. And hacking is a very hard thing to prove. So it could be somebody else. And I also know things that other people don't know, and so they cannot be sure of the situation."
Trump then stated his belief that extremely sensitive information should not be communicated via computers at all, citing the expertise of his pre-teen son.
"It's very important, if you have something really important, write it out and have it delivered by courier, the old-fashioned way because I'll tell you what, no computer is safe. I don't care what they say, no computer is safe," Trump said. "I have a boy who's 10 years old. He can do anything with a computer. You want something to really go without detection, write it out and have it sent by courier."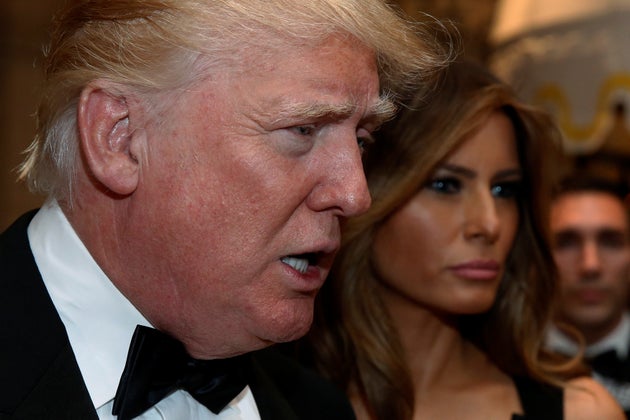 President-elect Donald Trump talks to reporters as he and his wife, Melania, arrive for a New Year's Eve celebration with members and guests at the Mar-a-Lago Club in Palm Beach, Florida, on Dec. 31.
When asked what, specifically, he knew about alleged Russian hacking that others did not, Trump said he would reveal his insights into the controversy in due time. "You'll find out Tuesday or Wednesday," he said.
The Department of Homeland Security and the FBI this week released a 13-page document outlining how Russian-based hackers stole emails of Democratic officials, which were then released online and to the outlet WikiLeaks in the closing months of the campaign.
Following the release of that report, Trump announced that during the coming days he would meet with U.S. intelligence leaders to discuss Russia's interference in the election, even though he thought it was better for the country to move on from the election.
Democratic nominee Hillary Clinton herself raised the issue of Russia's involvement during one of the presidential debates. But Trump said it was impossible to know who actually had done the hacking, suggesting it might have been a 400-pound hacker sitting in his bed and, later, that it was someone in New Jersey.
Author: S.V. Date
Source: http://www.huffingtonpost.com/entry/trump-russian-hacking_us_58686f8de4b0d9a5945bc5e9