With mobile phones becoming the primary source of Internet access for most of us (and for many, the only source), it's no surprise that Google's focus when it comes to Search has also come to rest on our small pocket computers. Shashidhar Thakur, Vice President Engineering at Google, was visiting India recently and caught up with Gadgets 360 to talk about some of the things that Google is thinking about when it comes to search.
What is the future of search going to look like in the time of augmented reality, and will chatbots replace search queries? Thakur says that it's too early to say what's going to happen in these cases, though he adds that big changes are coming, likening it to what happened with mobile phones in the last ten years.
"When the switch to mobile happened," Thakur explains, "it brought about some changes. For example, data becomes more expensive, and slower, so you have to focus more on things like answers, quicker results right away. Also, typing becomes harder, so the voice was necessary. The switch to mobile also showed the importance of the search feed, which tries to understand what you would be looking for, and show you that before you have to even enter a query."
This has, he explains, being particularly relevant in India, where entering queries for searches in local languages can be a barrier. "Keyboards are really designed for the Roman alphabet, so we've worked on improving keyboards, but voice makes a big difference," says Thakur. Another feature he's particularly proud of is Tabbed Search, which presents bilingual search results, so you can raise a query in English, and still get answers in your own language if you prefer.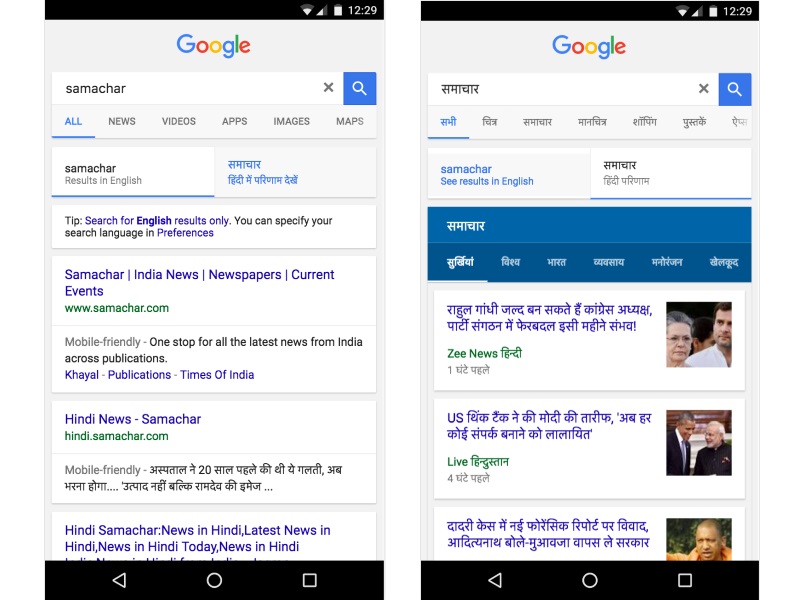 Apart from languages, he also highlights the work Google has been doing to improve usability across all kinds of network conditions, another feature that was developed with India in mind.
"We can deliver highly compressed results, Search Lite loads faster, and consumes less data," says Thakur. "Offline search lets you raise a query, and gets you the answers once you're connected. These are all things we learn and build for India, but the learnings are also transferrable, and they've been great additions around the world."
A search feed
One of these things is the search feed Thakur talks about. The idea behind it, as he explained, was to engage the user even when they don't know they need to look for something, to simplify usage on mobiles. That sounds a lot like Google Now, Thakur's previous team, and it's something that he says remains important even today, despite there now being a number of convenient ways to enter a query.
"Content should be pushed to you," he says, "because you may not be actively looking for something, but there is going to be information that you wanted. For example, we're in India, the Union Budget was just announced. It's something people in the region would be interested in, but you're doing something else. And what we can do is surface interesting results and send them to you with a notification, that is quite useful."
"Of course, on a PC, you're already 'on', it's not that hard for you to look at something if you want," he adds. "But your phone is with your 24*7, you're not on the phone all the time. That's why the feed becomes even more important there."
Of course, to make the feed more relevant, you need to give Google access to your data. But Thakur points out, the data collection is very transparent and easy to opt-out from. "Even if you opt-out of everything, we can still offer you some coarse-grained information like the budget, of course," he says.
But with access to more data, Google can pull together something like your airplane tickets, a good GPS signal can tell it where you are, navigation data can tell it how you would get to the airport, and live traffic data can tell you how much time it would actually take - so Google can put all of this together to send a notification saying, "Leave now, if you want to catch your flight!"
"It's a complicated system with a lot of different data that has to come together, and depending on the availability of the data there can be some challenges, but we get a lot of positive feedback from the users," says Thakur.
Graceful degradation
Of course, as he points out, there are a lot of different types of data being considered, and some of it, such as the GPS, is linked to your phone's hardware. Does that mean that there's a difference in the kind of Search experience someone with an entry-level phone would have, versus someone who is carrying a high-end flagship?
"It does make a difference, as various things can deteriorate," says Thakur. "The phone might not have enough processing power, it could go into low power mode, the location data might not be very accurate, and the phone might not handle app swapping so well."
Because of this, people who use entry-level phones - the bulk of the population, as the price of a smartphone in India averages $100 (approximately Rs. 6,700) - are likely not getting as good an experience as people who have high-end phones, though as Thakur points out, the baseline has been improving steadily, and even low-end phones are getting more and more capable.
"At the same time, we're also trying to offer what we call graceful degradation," he adds. "So for example, the Search Lite experience might not be as rich as the full Search experience, but it still gives people the information and answers they are looking for."
What's next?
As Thakur explains it, text and voice search are simply different entry points to Search, but not fundamentally different. On the other hand, the switch to mobile mattered a lot more because it changed the context in which we were engaging with search. Today, he sees this playing out in two ways - virtual and physical. By virtual, we're referring to Chatbots, which he says could well become the norm for Search.
"The Google Assistant isn't just an entry point, but also changes the output too, as it often shows just a single result," he says. "It also brings other things, it tells you jokes, and more, it brings a personality. As a result, you also engage more with search, and there's a context to it, a history, so it's going to be very interesting to see how it plays out over time."
Thakur doesn't believe that Search will become only chatbots - "there will be times when you want an answer, times when you want to interact with an agent in a more personable way, and times when you need to do deep research," he says - but he's of the opinion that it could grow to become very important.
But there's also the question of hardware. Google Home, along with other devices such as the Amazon Echo are part of a burgeoning new category of products that are "speakers with intelligence". And these could well change the face of search as well, in much the same way mobiles did, says Thakur.
"Just in the way it's located, these devices change the context of search, how you're engaging with search," says Thakur. "So for example, if it's kept in your kitchen, you might use Google Home to look for lots of recipes, in your living room you might be thinking more about music. If there's one of these in your car, the context changes again, and you're now much more likely to search for directions, and local needs, like coffee shops nearby. So the form factor defines the interaction."
That said, much like with Chatbots, Thakur says only time will tell how these are going to change search. On the other hand, the one thing that he has a fairly definite answer is augmented reality and virtual reality. "These are going to be real game-changers, and they're going to be future platforms, but they're not here yet," he says. "Right now the focus is going to be on getting the graphics right, getting the hardware optimized, and the early adopter distribution. So all of that is going to be sorted out first. Then you'll have services like games, videos, and so on, and it's only at that point that search enters the picture. It's going to be big, but it's not the next thing, it's still in development."
[Source: This article was published in 
gadgets.ndtv.com
By 
Gopal Sathe
- Uploaded by the Association Member: Alex Gray]