When Gabriel Weinberg became sick of Google search results and being tracked everywhere he went online, he took action. The developer created add-ons to limit his personal information being collected, and this small list evolved into the increasingly popular anonymous search engine DuckDuckGo.
Almost seven years after founding the company, DuckDuckGo has become a staple search engine for the privacy-conscious. In January, Weinberg and his now 35-person strong team, announced DuckDuckGo had provided answers to more than ten billion search queries. These numbers are nowhere near those celebrated by Google, Bing, or Yahoo; Google alone has 3.5 billion searches a day, but the 38-year-old has ambitions to grow beyond search. "We've had a very narrow focus for the life of the company because it has been hard to get the product to where it needs to be," Weinberg told WIRED.
"We're thinking of what else we can do to expand the proposition and give people more of a holistic privacy solution. We haven't made any total move but it's where we're heading; we're thinking more generally how can we do more to protect your privacy when you're browsing around the web."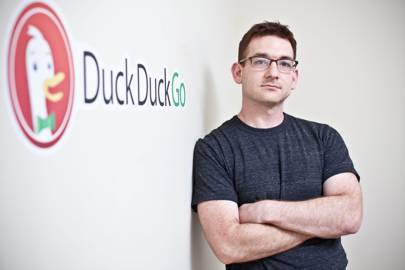 DuckDuckGo was founded by internet entrepreneur Gabriel Weinberg in 2008 as a privacy-focussed alternative to Google
DuckDuckGo was founded by internet entrepreneur Gabriel Weinberg in 2008 as a privacy-focussed alternative to Google
Weinberg didn't elaborate on any specific products or services, but said it "probably won't" be email. The development may, instead, be closer to a web browsingexperience. "Like when you click off the search engine and you're taken to somewhere else on the web," he explained. "If we can make that experience more private for you, that's what we're thinking of".
The rise of DuckDuck go has been slow, or "steady", as Weinberg describes it. He admits one of the dominant challenges for the firm is marketing itself in a populist way. In 2011, Weinberg purchased a billboard for $7,000 (£5,600)pointing out the company, unlike Google, does not track those who use its search functions.
Despite difficulties in getting the firm widely known, DuckDuckGo has seen a number of mainstream successes: Apple included it as a default search option with iOS 8 in Safari in September 2014, Mozilla followed suit, including DuckDuckGo in Firefox in November of the same year. It also exists on Tor.
For now, Weinberg says development will continue on the core search features of DuckDuckGo. Like Google, the service tries to provide instant answers to your questions. If you're looking for a local cinema the firms will try to show the number and opening times; if you're searching for who was the UK prime minister in 1973 they will try to tell you.
"When you're looking for more things like breaking news or a phone number for a restaurant, especially internationally, we're making that experience better for users," he continued.
The entrepreneur expects the popularity of anonymous search to continue to grow and says he is worried about online surveillance laws around the world, including the UK's Investigatory Powers Act. Unsurprisingly, for the creator of a privacy-enhancing website, he says laws around the world are "unsettling".
"For the majority of people, I think they're just looking for simple ways to be tracked less online".
Author : MATT BURGESS
Source : http://www.wired.co.uk/article/duckduckgo-what-is-it-how-does-it-work